Napoleon Hill Associates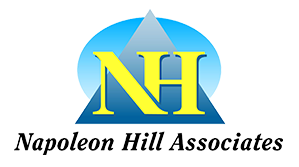 About Us
Founded in 2002 by prominent Kuala Lumpur-based lawyer, Ms Christina Chia, the propagation of Napoleon Hill Philosophy has experienced a new lease of life. NHA had since capitalized on Dr. Napoleon Hill's Success Philosophy where it engages the corporate sector by sharing its principles. That also includes contemporary strategic leadership and management work training to empower corporate professionals.
NHA's program also help individuals to realize the potential power of mind, particularly in attitude control and behavioral change. Of course, the cultivation of positive interpersonal communication skills is essential too. This dynamic and holistic blend not only caters to the requirements of corporate human development, it also caters to the needs of individuals. These are especially crucial as personal development has significant bearing on building a better community.
With a systematic and comprehensive learning path, those who embrace the philosophy and methodologies in the program are rewarded with a more gratified lifestyle. Armed with a solution oriented mindset, they are able to achieve goals more accurately and efficiently.
The NHA Learning Path has been designed to provide gradual advancement and the journey will enable participants to achieve self-enlightenment and spiritual growth. It is complete with the offer of a career path in Corporate Training Programs.
Holding strong to the credo of "Whatever the mind can Conceive and Believe, the mind can Achieve", NHA programs are noted to make a difference for people who are hungry for success and wants to lead a happy, healthy and fulfilled life.
What we do
---

Corporate training courses

Company/School events

Public Education Workshop

Int'l Convention
The Team
The organization consist of a group of workforce who is fully integrated capabilities and widely acknowledge in the training industry. We're committed in going the extra mile in upholding the level of customer service where customer experience is valued and prioritized. Creating more success stories is a key focus for NHA towards our goal of being recognized as a proven self-development program based on Napoleon Hill's philosophy.
---